All prices below are listed in danish kroner
8 serveringer 445,- pr. person
Menuen skal vælges af hele bordet (Min. 2 personer)
4 glas for 8 serveringer ( 5 glas +355,- )
Tết / Lunar New Year Menu
Although we have already celebrated a New Year according to the Western calendar, we must once again celebrate a New Year according to the Vietnamese calendar.
February 1st is Tết (New Year) and with it comes festivity, delicious food traditions and happy days for all. Our hearts are filled with love for each other and the traditions that once again bring the family together. The feast of Vietnamese New Year's culture is prepared with diligence and precision, as it must not only represent prosperity and happiness but welcome the new year with the desire for success and love.
The family gathers for the New Year about this fine meal and here shares their stories from the past year in a loving reunion.
At THE VIETNAMESE, we welcome you to our new New Year's tasting menu. Our philosophical cuisine under the direction of, Duc Huy Do has once again put together a heartwarming menu with flavors from the traditional Vietnamese cuisine. With the number 8, which represents potential after these years with Covid, we take you through 8 different dishes that exude traditional New Year's dishes and tastes from both northern, central and southern Vietnam.
In fantastic surroundings and with an authentic atmosphere, in THE VIETNAMESE you get not just a little bit of Vietnam – but a feeling of our hospitality, humor and warmth of heart.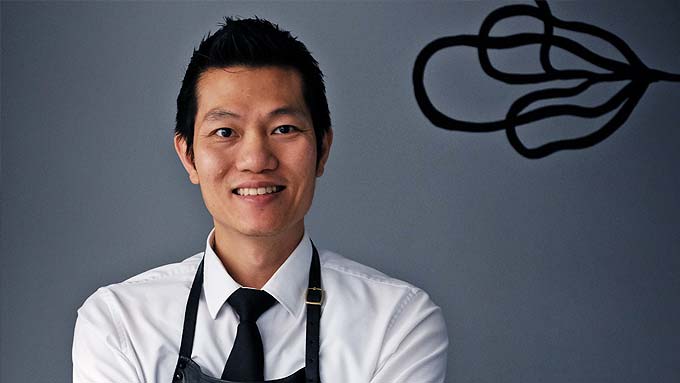 De Vietnamesiske Kulinariske Teknikker Tasting Menu
Denne menu er inspireret af de Vietnamesiske kulinariske teknikker
Kokken Duc Huy Do og personalet i restauranten vil, med kærlighed til hjemlandet, byde på en interessant tasting menu. Teknik, kultur og personlige historier danner rammerne sammen med en kombination af de fem grundlæggende smage i alle måltider.

Kokken byder dig på en gastronomisk smagsoplevelse og sammen med vores elskede køkken, kulminerer det i en tasting menu med 8 retter.
Efter et år med covid-19, har vi valgt tallet 8, da tallet 8 repræsenterer potientiale.
Menuen er tilberedt på de 5 grundlæggende smage. Smage som alle indgår i det vietnamesiske køkken.
De centrale smage: Sur, Bitter, Sød, Stærkt og Salt. En sand smagseksplosion som aktiverer sanserne, mundfuld for mundfuld.
Alle vores retter er opbygget med disse smage.
Velkommen til en vaske ægte vietnamesisk oplevelse på
The Vietnamese.